Gifted Psychics Offer Insights and Guidance

Credit Card Callers

AUSTRALIA
24/7 Auto Service:
1800 732 337
*
Manual Service:
1800 222 362
**


$2.50
AUD per min
15 minutes
$37.50
AUD
*Billed as: Truepay
**Billed as: Access Positive
PHONE Now for Clarity
*You must accept our Terms of Use to Proceed with the Psychic Reading.
CALL NOW FOR GUIDANCE
Find solutions and insights by using a Psychic and bring some clarity into your life.

---

Genuine Psychic Phone Home > Phone Psychics
Phone Psychics
Phone psychics are the experts who are always ready to help you over the phone with their divinatory powers to predict your future and provide you with guidance to achieve your positive aims.
They can help you in every area of your difficulties,
health,
romance,
finance,
business,
partnerships,
relationships,
marriage,
divorce,
tours and travels,
loans,
litigations, and so on.
Our Phone Psychics are waiting to take your call to give you the insight you need!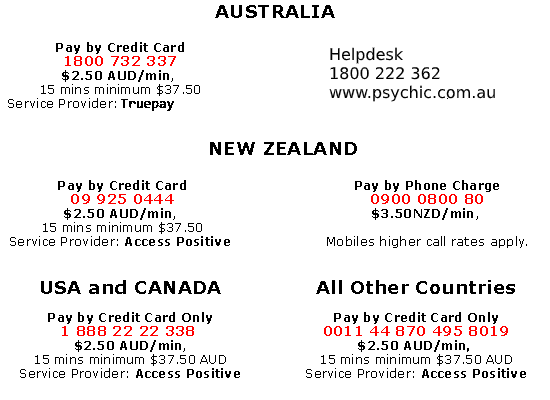 There are basically two traditional and one modern way to get a psychic reading. You can have a face to face psychic reading either in the psychic's place or your home or you can have a reading done by phone psychics.
Should you choose to have a psychic reading in the place of the psychic, you should be willing to take the trip. Traveling all the way to the home or shop of a psychic can be time consuming and expensive. In going to a psychic for a face to face reading you will have to spend for transportation and of course the cost of the reading. With a face to face reading your choice of psychic is limited to those within your immediate vicinity.


If you choose to have a psychic drive down to your home for a reading, be ready and willing to shoulder the cost of the psychic's travel expenses and the inconvenience it may cost her. If a psychic needs to travel to your home, she will make sure to maximize her trip by booking additional readings within your area. When a psychic's day is loaded with psychic reading schedules, her energy and the quality of her readings are compromised.


The trouble and inconvenience of traveling can tire and stress out a psychic. Stress is one major thing that can distract a psychic reader. The flow of psychic energy can be blocked when a psychic is tired and stressed. The modern way of getting a psychic reading is a more feasible choice. The psychics of today and psychic reading seekers have learned to take advantage of the conveniences modern technology offer. With a psychic phone reading you and the psychic will have a session from the comfort of your homes.


Phone psychics will not be tired or stressed because they can work from the comfort of their homes and at any time they wish. You will be comfortable because you are at ease in your own home. Being somewhat anonymous to the psychic reader will add to your comfort.
Psychics who do phone readings are at ease, composed and are able to tune in to your energies and the reasons of your call. Just like a face to face reading, a phone psychic reading can be a tarot card reading or through any of the skills of the psychic. If you opt for a tarot card reading, the psychic will either go directly to the reading after tuning in to you or focus on your voice and use her psychic abilities to give you answers to your questions. A psychic telling you things about yourself that you did not reveal will assure you of her psychic powers. After the short talk, the psychic, through the Tarot cards will listen to what the spirit guides or her sixth sense to give you the guidance and insights you need.


Searching for reliable and accurate phone psychics is as simple as a touch on the screen or a click of a mouse. Open a reliable psychic phone website and browse through the profiles of available psychics. Phone psychic readers are on stand-by 24/7 to answer your call.

Advertisement


Select Your Country for Credit Card Readings
Genuine Psychic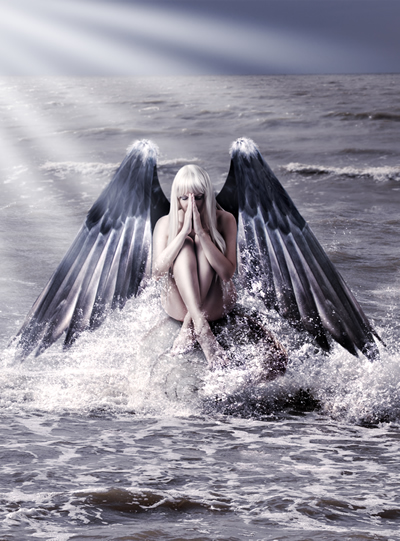 About GenuinePsychic.com